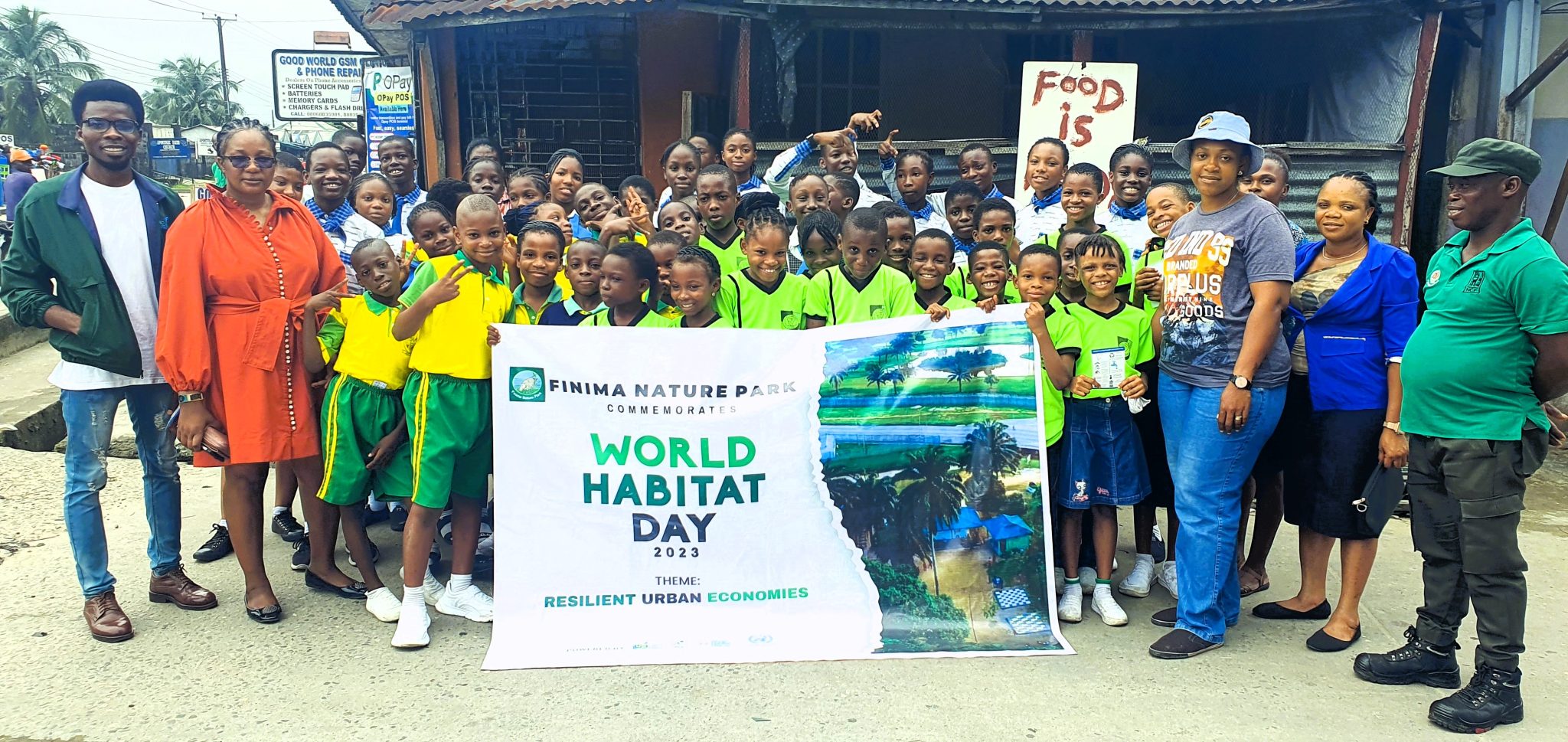 World Habitat Day 2023 Commemoration at Finima Nature Park
Finima Nature Park is thrilled to share the highlights of our commemoration of World Habitat Day 2023. This year, we celebrated this important day with a focus on "Sustainable Urban Living," emphasizing the need for a more environmentally conscious and harmonious urban environment.
Schools and Market Sensitization:
Nine local schools teamed up with us to bring the message of sustainable living to the heart of our community. These schools included Apostolic Faith, Redeem Primary School Bonny, Faithword Academy, Bishop William Brown School, Royal Builders School, Divine Highflyers Academy, Save the Child School, Redeemers Secondary School, and Legacy International School.
We took to the streets, visiting three prominent local markets: Akiama Market, Finima Market, and Agaja Market. Our goal was to sensitize the community on vital topics:
Proper Waste Management: We educated market-goers about the importance of proper waste disposal and recycling. Together, we discussed the negative environmental and health impacts of improper waste disposal and encouraged the use of waste bins and recycling facilities.
Tree Planting: We highlighted the significance of tree planting for environmental conservation. Trees are crucial in purifying the air, reducing carbon emissions, and providing habitat for wildlife. Some schools even distributed tree saplings for planting.
General Environmental Education: We provided essential knowledge about various aspects of sustainability. Topics included water conservation, energy efficiency, and the preservation of our local ecosystems.
The response from the local community was heartwarming. The involvement of school students in educating market-goers added a personal touch to the initiative, making it more relatable and impactful. Many market women and men expressed their willingness to adopt sustainable living practices and appreciated the efforts of the park and the schools.
We are encouraged by the positive response and hope to continue working together to create a more sustainable and environmentally conscious urban environment for all.
Thank you to all the schools, students, and community members who participated in this World Habitat Day commemoration. Together, we are making a difference!