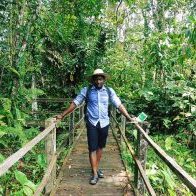 Guided Trail Tour
Need an adventure into the creek, rainforest and get a sneak peak on what life feels like in the rainforest? Then visit the park and join us on any of our trails. Move through the forest and find out what species are found at first walk-way, move in depth to Agaja Nature trail, check out the many plant diversity, footprints of the sitatunga,  listen to sound of Mona monkeys, bird sighting, and other reptiles at Agalanga trail, Sibiekiri motor bike trail and get the peaceful view of the Atlantic Ocean.
Time: 8.00-9.00am, 10.00- 11.00am, 1:30- 3.00pm
Date: Tuesday – Saturday
Free
**if the weather permits
The trails offer a few steep spots, so we recommend wearing close-toed shoes and traveling on foot.
Come through the second walkway and get close to the mangrove diversity and get a sneak peak of the Atlantic Ocean. Individuals would learn about the root systems of the hardy mangrove forest at Finima Nature Park.
Time: 8.00am – 9.00am, 11.00am - 12noon, 2.00 – 3.00pm
Date: 28th October
Free
**if the weather permits