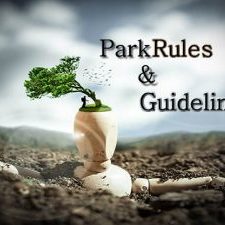 [spacer height="20px"]For your safety, please stay on trails.  Avoid stepping off track while on our nature trails. By stepping off the trails, you risk disturbing and trampling on our flora and fauna.
Show care when using our park facilities. The amenities, such as the restrooms, walkways and sit-out are meant for everyone. Help keep our park facilities in good condition for all to enjoy.
Keep all noise levels low. Enjoy the serenity of nature by keeping noise levels low. Respect nature and other park goers.
No smoking. Smoking is prohibited at all areas of the park.
No Litter. Kindly dispose waste/litter at designated bins located around the park. Littering, not only spoil the beauty of our park but may also harm the animals. Keeping the park clean is everyone's responsibility.
Leave nothing but footprints, take nothing but photographs. Leave our bonny flora and fauna to thrive in their natural habitat.
Respect our eco-system. Unauthorized removal or release of plants, animals from or into our park is prohibited.
No Poaching. The killing, injuring or oppression of any wildlife is strictly prohibited.
No fishing. Fishing is strictly prohibited in any of the ponds or bodies of water within the reserve unless under agreement with the park management.
Firearms/dangerous weapons are strictly prohibited.
Drive safely. Please park your vehicles only at designated lots.
Picnics are permitted only in designated picnic areas.
In case of fire, please alert a park ranger.
Keep our nature park a safe haven for our native biodiversity. We Hope you enjoy your stay with us. 
Follow us on Instagram/ finimanaturepark
Like our Facebook page/ FinimaNature Park

How can you help?
Visit the park, spread the word, and inform your friends, family that they are welcome to visit Finima Nature Park and Website.
Follow us and share our activities on either of our social network community.
Donate and dedicate park benches, exotic birds
You can support by donating ornamental flower/ herb seedlings, native trees
Sponsor environmental materials for green kids club activities.
Whether you like to be out in the Park, provide event support, or assist the staff in the office, there are innumerable volunteer opportunities. We are able to achieve far more in environmental and social benefits to the whole community with the help of volunteers.
Sign up as a volunteer today. Contact us or visit the Resource Center at Finima Nature Park, Bonny Island, Rivers State.