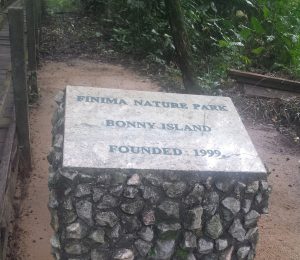 Finima Nature Park is a 1,000 hectares land of freshwater swamp forest lying along Nigeria's southern coastal area in Bonny Island, Rivers State. The park is a privately owned resource established in 1999 as part of Nigeria LNG Limited's response to the growing environmental global concerns and the need for corporate organizations to be environmentally responsible in other to achieve a more sustainable environment for future.  NLNG would also give back to the local community in which they work by helping to conserve part of their vast tropical swamp forests.
Since inception, the Park is financially supported by the Nigerian Liquefied Natural Gas (NLNG) Limited under their biodiversity programme. The aim is to protect the peculiar ecosystem and biodiversity within the area and also guarantee its ecological integrity. Finima Nature Park is currently being managed by Nigerian Conservation Foundation who took over from the Niger Delta Wetlands Commission in 2011. The Park is currently held in trust, in partnership with its immediate host, the Finima Community.
Finima Nature Park is divided into the Eastern and Western end with size 700 hectares and 300 hectares respectively. The Resource and visitors centre is located at the entrance of the Eastern end of the Park.
Finima Nature Park is host to diverse bonny species of flora and fauna which is of great delight to tourist and nature lovers. It also serves as a field laboratory for intending researchers with a viable platform for environmental education and awareness. The Park has great potentials for biodiversity conservation, research on coastal mangrove swamp ecosystem and open sandy beach marine environment, with valuable attributes for marine ecosystem conservation and sustainable livelihood opportunities.
 ¤ Milestone/Achievements
 Finima Nature Park (FNP) has been designated as an internationally acclaimed centre for wetlands education and thus becomes one of the first two nature parks in Nigeria to become members of the Wetlands Link International (WLI) which boasts of more than 350 International Wetlands Centres as members across 6 continents. Supported by Wildfowl and Wetlands Trust (WWT), UK, Wetlands Link International (WLI) is a network of Wetlands Education Centres engaged in, and dedicated to the delivery of integrated and results-oriented on-site engagement activities.
Finima Nature Park is also recognized by the Rivers State Ministry of culture and Tourism as a Conservation Environment in Bonny Island